Heather Peters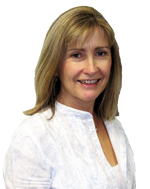 Heather has extensive physiotherapy experience, having worked in private practice in the North Eastern suburbs for 26 years.

She believes in "hands-on" physiotherapy and that recovery involves a team approach between the physio and the client.

Heather regularly treats clients with back, neck, shoulder and knee pain and after orthopaedic surgery. She also conducts hydrotherapy classes in Golden Grove, which can be useful in a client's recovery.

Heather regularly attends continuing education courses and these have included kneecap conditions, sports injuries and pilates.