Adrian Barei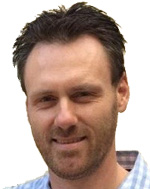 Adrian graduated in 1994 and initially worked at Modbury Hospital for 2 years on a general rotating roster. He then moved into private practice, working at various general and sports physiotherapy clinics up until 2004 when he moved into an Occupational Health setting, working with a multidisciplinary team in Hindmarsh.
He has been the team physio for the St Peters Old Collegians Football Club and the Burnside Rugby Union Club, and has looked after many state and national level athletes from a variety of disciplines including football, cricket, track and field, volleyball and basketball.
In 2017 he returned to study, completing a Masters In Advanced Clinical Physiotherapy (Sports) through the University of South Australia. His main area of interest is the active management of musculoskeletal and sports injuries. He now also runs a sports clinic in St Peters focussing on cycling injuries and bike fitting, and is a keen amateur cyclist himself.